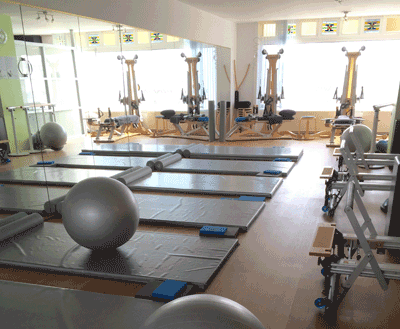 re-balance pilates studio plus is a dedicated pilates space where today's and tomorrow's knowledge of our bodies is applied to the original exercise method of Joseph H. Pilates via the internationally respected, contemporary STOTT PILATES® approach.
re-balance pilates studio plus was the first in the Netherlands to offer the STOTT PILATES&reg method. Our studios have a peaceful, but fun and friendly atmosphere in which to practice Essential, Intermediate and Advanced sessions in classical Matwork** and work on authentic pilates apparatus.
Our clients come from all walks of life, and all age groups. We have often the honour of teaching people in the public eye; singers, musicians, artists, dancers, marathon runners, and other professional sports people. At Den Haag Circustheater performers/dancers (Lion King,Tarzan, Wicked) have enjoyed pilates sessions via our studios, and of late we enjoy working with a performer from (Tarzan, Mary Poppins) who also offers dance workshops at our studios. We are proud to say that rock icon Sting (The Police) when touring The Netherlands a while back took pilates sessions with us.
Rehabilitation for dancers and sports enthusiasts after injury, cancer management, and pre/post-natal exercise in conjunction with our clients and our own medical advisors is also part of our agenda.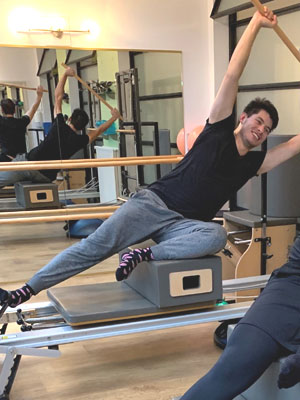 Pilates trainers who have worked out as clients at re-balance pilates studio plus, have gone on to study further this contemporary approach at the International Headquarters in Toronto, and in other Licensed Training Centers around the world where thousands of enthusiasts, dancers and fitness experts have educated themselves in this method for over 25 years.
Pilates is about you, your body, your time and your money.
Books and DVDs can be useful, but they are no substitute for a qualified, experienced pilates instructor.
Check that your pilates instructor is certified, by whom and when, and to what level.
Ask how long your instructor has been teaching pilates.
Try a session and ask which muscles the exercises are aiming for.
Ask why they might be good or not for your particular body type/posture.
If you want to go deeper, ask for an in-depth Postural Analysis.
The detailed and complex education materials and books, which are made widely available as part of Moira Merrithew's drive to openness, have proved so desirable that many copyists have risked litigation. These copyists, without the education, examination and certification process cannot be considered knowledgeable and experienced in this contemporary approach to pilates.
Only trainers who have passed written and practical exams to the required level are certified and listed under Instructor Finder on the official STOTT PILATES® web site.
Below are the titles of the only work Pilates ever published, around 70 years ago. Since the new millennium, they have been made available to the general public.
'Your Health' (1934 - Joseph H. Pilates)
'Return to Life Through Contrology' (1945 - Joseph H. Pilates and William John Miller)
**The Classical Mat programme is the name given to a sequence of thirty-four exercises, developed by Joseph Pilates and described in the second of the books above. Today the repertoire has expanded through creative generations of pilates instructors to include over 500 exercises.